Vinyl Siding, Soffit and Accessories
Vinyl siding will enhance the curb appeal and add value to your home for generations. It transforms homes with a richness that simulates the look and feel of real wood. Experience the beauty of a low-gloss woodgrain finish without the high maintenance of painted wood. With quality vinyl siding you also don`t have to worry about rotting, warping, scratching, or peeling – it stands up to harsh weather while keeping its beautiful, freshly painted appearance.
Vinyl Siding
At Aluminum Associates, we`re proud to sell and install the full line of siding products from ROYAL BUILDING PRODUCTS, including soffit materials and coordinating accessories.
ROYAL siding products undergo extensive testing to ensure the highest standards:
UV tested to ensure your siding provides good colour retention and long lasting good looks.
Extensive impact tests are conducted to ensure impact resistance.
Royal tests its siding against brittleness, ensuring your siding will maintain its superior durability, rigidity, and structural integrity under severe weather conditions.

ROYAL siding products are backed by the most powerful non-prorated, fully transferable warranty in the business – Royal is that confident in the superior quality of their products!

Varying in thickness from .040" to .054" gauge, this line of quality products also includes extensive variations in style, profile, and colour; allowing for amazing diversity. And you`ll find a great selection in stock at Aluminum Associates every day.
Siding Styles and Profiles

Traditional (clapboard) is available in Triple 3", Double 4", Double 4 1/2", Double 6" and Single 7" (both with foam backing) and 8" (white only) horizontal profiles.

Designer has a bevelled profile for a distinctive look. Available in Double 4" and Double 4 1/2" horizontal profiles.

Vertical is available in a Double 5" profile.

Board and Batten is used as overall siding or for an accent area; these panels emphasize the vertical configuration. Board and Batten is available in 7" or 20" (Haven Insulated Siding only) widths.

Colonial Beaded represents American colonial architecture and features a rounded beaded base for a pronounced shadow line.

Designer Beaded Panel is most often used as a soffit material, however, this panel can also be used as an accent in a vertical siding application.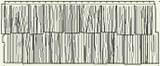 Shake beautifully replicates the look of real cedar shakes. Available in Rough Sawn, with a straight bottom edge which provides a refined look; or Hand Split, with an uneven bottom edge for a rustic look.
Half Round (scalloped) siding panels are an ideal way to add a charming architectural detail. This profile is commonly used for gable ends.

Included in the Royal Building Products siding line is the new Haven Insulated Siding. Insulated siding adds to your home`s exterior insulating ability - Haven`s R-value is up to 19% higher than traditional siding. Noise is also reduced by up to 45% and and impact resistance is increased by up to 240%! Haven is available in 4 profiles and 16 beautiful colours.

Colours
ROYAL`s line of vinyl siding, soffit, and accessories includes an incredible array of colours. Note that not all colours are available in all styles or profiles. Samples of each colour are available from your Aluminum Associates sales rep.
Std Colours
Blue Gray
Brownstone
Clay
Estate Gray
Flagstone
Harvard Slate
Heather
Linen
Sand
Vintage Cream
White
Wicker
Premium Colours
Cypress
Pebble Clay
Sable
Storm
Toasted Almond
Tree Moss
Walnut
Dark Colours
Bark
Cocoa
Granite
Heritage Blue
Ironstone
Marine Blue
Midnight Surf
Musket Brown (Soffit)
Natural Cedar
Shamrock
Redwood
Weathered Gray
Wedgewood
Additional colours are available in Shake and Shingle profiles, including:
Black Walnut
Gray Moss
Pacific Redwood
Sandalwood
Yellow Birch
Vinyl Soffit
ROYAL
also offers a variety of vinyl soffit profiles in solid or vented formats to suit any application.
Triple 3
Triple 4
Double 5 and Double 5 Heavy Gauge
Designer Beaded Panel
Vinyl Accessories
The
ROYAL
line of accessories includes both Traditional and Designer accessories, in a variety of sizes to suit your application. They can be selected to blend in, or to accentuate architectural detail.
Traditional
J-Channels
Outside Corner Posts
Inside Corner Post
Dual Undersill Trim
Vertical Base Trim
Drip Cap
Starter Strip
Finish Trim
Frieze Trim
T-Trim
Batten Mold
Designer
Outside Corner Posts
Inside Corner Post
Window Casing
Crown Moulding
If you have a question about any of the products that we sell, if you`d like to receive a free estimate for professional installation, or ask about a project you`re going to install yourself, don`t hesitate to contact us – we`re happy to help. You can speak to a sales representative in our showroom at 1801 Trafalgar St. East, call us at 519-453-6400, or click here to e-mail us.