Find the answers to your questions here
How do I calculate the amount of vinyl siding I will need?
For horizontal siding you must adjust the height of the area to be covered to make it divisible by the height of the siding panel (e.g. 9" high panel for Double 4.5" profile). For example, if your wall is 114" high you must add 3" to the height to make it divisible by 9", to ensure that you have enough vinyl siding.

Similarly, for vertical siding you must increase the width to make it divisible by the width of the vertical siding panel being used.
Measure each wall you want to cover. Multiply width x height = _____ sq. ft.
Use the following formula to calculate siding required for each gable end:
Gable width x gable height, multiplied by .67 (or 2/3) = _____ sq. ft.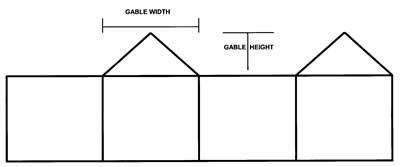 Total the square footage for all walls and gable ends.
Measure all openings for doors and windows. Multiply width x height = _____ sq. ft.
Total the square footage for all openings.
Subtract half of the total square footage of openings from the total wall area.
The remaining number represents the total square footage of vinyl siding required.

Complete installation instructions are available at Aluminum Associates. See the Siding page of this website for specific information about the quality siding that is available from Aluminum Associates.
What can I expect when my new door or windows are installed?
Following the placement of an order with our Sales Representatives and payment of an applicable deposit, our Installation Manager will call you to arrange a time to recheck all measurements and order details. He is responsible for the smooth installation of your new door or windows, so involving him at this early stage ensures accuracy and a smooth transition from ordering to installation.

Steel and fibreglass entry systems, patio doors, and windows are custom ordered to fit your application. Once these items are received in our warehouse, and examined to ensure that all components are intact and in good condition, our Service Advisor will contact you to arrange a convenient time for installation.

With your permission, when the installers arrive they will place a small job site sign on your property. New doors and windows can be installed year-round. In most cases it takes only a few minutes to take out an existing door or window and set a new one in place, so the exposure to the elements is minimal. The improved energy efficiency of a new door or window can more than offset the minimal exposure to the elements.

Deadbolt locks are recommended for the best door security. Our installers will install your new (or existing) door handle and deadbolt.

When removal and replacement is done professionally there is virtually no damage to your home. In most cases, however, rather than reusing the old casing trim (the woodwork around the interior door or window opening) Aluminum Associates replaces it with new trim. The trim is then ready for the customer to apply the appropriate paint or stain to match their decor.

Our installers will make every effort to protect your property and ensure that the work area is fully cleaned, including cleaning fingerprints off of glass and trim, and removing all refuse, before leaving the job site. We will take away your old doors and windows and ensure that they are taken to a recycling depot. Wherever possible, these items are recycled to create post consumer materials that can be used to make new products, rather than going to a land fill.

After final completion your Sales Representative will call to set up an appointment to meet with you to go over the work to ensure your satisfaction. They will also review the warranty cards, and if everything is to your satisfaction, present an invoice and collect payment of the balance owing. The Sales Representative will leave a copy of the invoice and all warranties for your files, and take away the job site sign.

You can sit back and enjoy the comfort and convenience of your new door or windows.

If you have a question about any of the products that we sell, if you`d like to receive a free estimate for professional installation, or ask about a project you`re going to install yourself, don`t hesitate to contact us – we`re happy to help. You can speak to a sales representative in our showroom at 1801 Trafalgar St. East, call us at 519-453-6400, or click here to e-mail us.