Steel Siding and Roofing
Steel products for a variety of applications
A full line of VICWEST steel siding and roofing products is available to order from Aluminum Associates. These superior products will resist the heat of summer and the chilling cold of Canadian winters to keep you dry and comfortable for years to come.
Steel Siding
VICWEST manufactures a wide assortment of wall profiles for Agricultural and Commercial applications. Wall panels are available in a number of different gauges; and in galvanized or Galvalume finish, or a wide variety of prepainted colours (see Paint System below).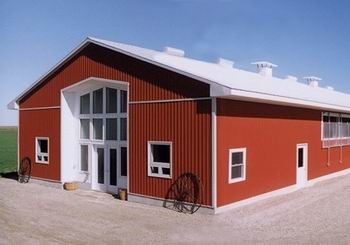 Vicwest`s steel wall profiles are suitable for both one and two-storey buildings. They are durable, economical, quickly and easily installed, and are extremely low maintenance.
Steel Roofing
VICWEST manufacturers roll formed steel roofing for residential, commercial, or industrial applications. A variety of profiles are offered, and a steel shingle is available for those who want the durability of steel, but the look of a shingle for their home.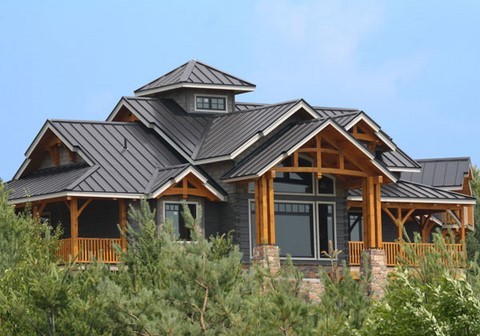 The distinctive look of beautiful VICWEST steel roofing on a home or cottage really makes passers-by slow down to admire.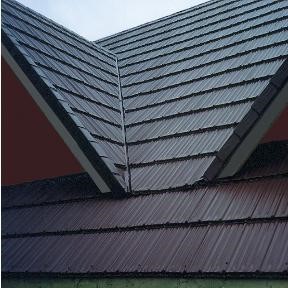 Paint System

VICWEST uses WeatherX®, a unique paint system specifically designed for agricultural, industrial, and pre-engineered building components and systems. It provides superior performance in colour and gloss retention, as well as improved chalk resistance. The WeatherX® system is supported by a 40 year limited warranty!
Vic West Colours
Customers can choose from an extensive colour palette:

White White
Bone White
Bright White
Cambridge White
Antique Linen
Ivory
Bambou Ivory
Regent Grey
Gold
Pebble Khaki
Tan
Oak Brown
Metro Brown
Cocoa Brown
Dark Brown
Cordouan
Burgundy
Dark Red
Bright Red
Tile Red
Orange
Mist Green
Turquoise
Pacific Turquoise
Deep Water Green
Forest Green
Dark Green
Spruce Green
Cabec Green
Grey Berry
Charcoal
Black
Twilight Blue
Royal Blue
Heron Blue
Slate Blue
Navy Blue
Stone Grey
Liner White
Copper
Galvanized
Galvalume
Note: not all profiles are available in all colours. Contact an Aluminum Associates sales representative for availability.
Tools, Trims, and Accessories
A complete range of tools, metal building trims, and accessories are also available to complete your project.
A wide variety of standard and custom trim pieces
Flat stock.
Ventilated soffit
A variety of fasteners
Foam and metal closures (suitable for closing rib openings at sheet ends)
Joint sealants
Touch up paint
Underlayment
Master Flash pipe flashing
Steel roofing tools including crimpers, seamers, folding tools, edge rollers
For further information about VICWEST steel roofing and siding products visit vicwest.com.
If you have a question about any of the products that we sell, if you`d like to receive a free estimate for professional installation, or ask about a project you`re going to install yourself, don`t hesitate to contact us – we`re happy to help. You can speak to a sales representative in our showroom at 1801 Trafalgar St. East, call us at 519-453-6400, or click here to e-mail us.