Entrance Enclosure
All the benefits of a storm door and more!
With the popularity of the insulated steel door, the days of poorly insulated, drafty entry doors are quickly coming to an end. In fact, steel door manufacturers maintain that storm doors are unnecessary. While this may be true, many homeowners appreciate the ability to open their doors to fresh air and sunlight, while protecting their homes from insects and the elements. Entrance enclosures provide all the benefits of a storm door and much more!
What is an Entrance Enclosure?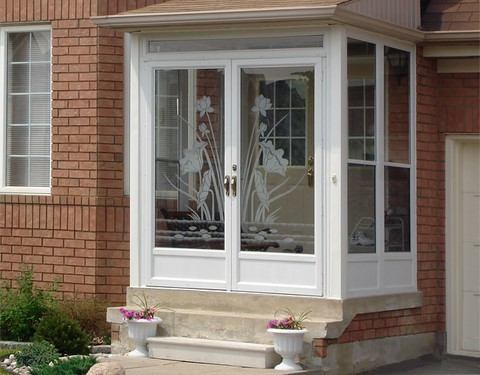 Many homes have been built with a porch roof or second floor overhang sheltering the main entrance – an entrance enclosure adds partitions to enclose this space, creating a buffer zone and allowing greater use of the area. If your home does not have a porch roof or second floor overhang sheltering the main entrance, you can still have an enclosure – we can add an aluminum panel roof to make your enclosure complete. Enclosures of this type are often used as 3-season sunrooms.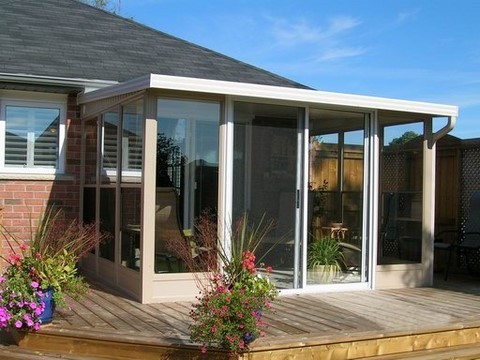 Entrance enclosures use custom fabricated glass panels and doors made of the same durable aluminum material used for our storm doors. The panels are fastened together using special connector pieces to form a wall. This entrance enclosure system is designed to adjust to uneven and out of square walls and floors, which makes for a tight, well sealed, and good looking installation.

Advantages:
Protection from the elements, keeping snow and rain away from your entrance
A temperature buffer zone keeping cooled or heated air in, and drafts out
Added security
Extra usable space for boots, coats, plants, or activities
An additional living space that is comfortable for everyday use in spring, summer, and fall
Permits ventilation
Added home value

Features:
Durable, baked on enamel finish in white, brown, ivory, or sandalwood colours
Reinforced die cast corners
3mm tempered glass
Black, durable aluminum screen
Superior weatherstripping system
An entrance enclosure, complete with operating windows and doors, would make a practical addition to any home.
Click here to visit the York Aluminum website.
If you have a question about any of the products that we sell, if you`d like to receive a free estimate for professional installation, or ask about a project you`re going to install yourself, don`t hesitate to contact us – we`re happy to help. You can speak to a sales representative in our showroom at 1801 Trafalgar St. East, call us at 519-453-6400, or click here to e-mail us.